As you probably can already tell, Aztec Print is going to be THE fashion trend this spring/summer. There is aztec print everywhere and it looks amazing in everything and in everyone really.
Corset in Mex Tex Print by Asos (14,16€)
You can choose from corsets, to jeans, skirts, shorts, phone cases, necklaces… whatever you can think of can be on aztec print!
Tie Dye Aztec Print Midi Dress by Topshop (38€)
You can use them to a weekend festival, to the beach, to a night out – everywhere. It really is the perfect trend for summer – it's fun, pretty and really cool.
Moto Indigo Aztec Denim Shorts by Topshop (42€)
The only tricky part of wearing Aztec print is that it can get a bit too much, as it is make sure you always wear it with plain shirts/jackets/shoes/etc. For example, with these moto indigo shorts I would wear a black or white plain shirt with black shoes.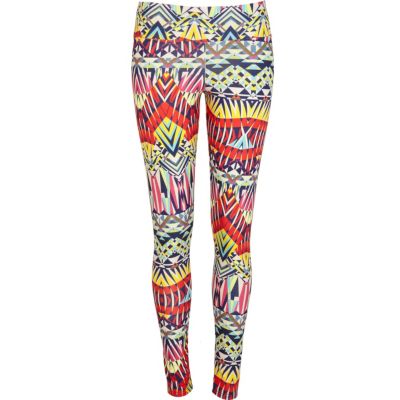 Red Aztec print Leggings by RiverIsland (18£ aprox 20€)
You can also wear gold jewellery with aztec print; I love gold necklaces, it looks amazing and really chic. If you aren't too keen on exuberant prints go for the black and white – there's no way you can go wrong with it. Pair a black and white aztec print jeans with a white shirt and you'll be as amazing as it gets!
Thread Loop Collar by Topshop (24€)
So what do you think? I love this trend. It has summer written all over it!! Can't wait to start wearing bright colour aztec print.